506 Crew is a dynamic Reggae Band based in Central Florida.  They consistently ignite the state with their brand of Contemporary, Dancehall, and other styles of Reggae music, simultaneously soothing the souls of their fans with sensual original ballads.  Their experience and professionalism is vast as they have performed with many well known artist such as Maxi Priest, Yellowman, Jimmy Cliff, Third World, and Freddie Mcgregor, just to name a few. 

The leader of 506 Crew is Tony Blair.  Born in Jamaica, he adds his own authentic vibes to this band comprised of multicultural members. Tony is very talented on the keyboards and his vocals go with out saying.  He is an ardent lyricist and entertainer and has been playing keys from a very early age.  His talent and persona never goes unheard.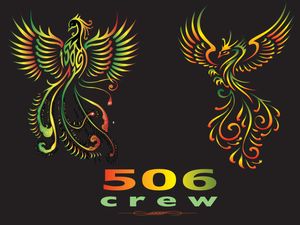 Ilismo is from the enchanted island of St. Maarten.  She brings a classic, yet soulful, Caribbean flavor with her versatile vocals. This talented songstress, who is also one of the lead singers in the group, says her vocal chords are "Strong as mahogany yet gentle as the Caribbean Sea." 

On bass, from the Isle of Spice that is Grenada is Kelvin Parks. Since migrating to the U.S. he has played the hotel circuit both in New York and Florida and has performed with Tropical Steel, Mattocks International, and now 506 Crew. 

Additional crew members not shown. 

The creative energy that flows through the unique song writing collaboration of Ilismo and Tony Blair is incredible.  Tony has produced three albums.  The first is "Talk It Over" which contains both conscious lyrics and nostalgia and is performed in a rootsy traditional style. His second album "Jah Love" is a must have for the conscious-minded music lover.  The third album is a collection of their very own "new" and revamped "oldies but goodies". 

506 Crew promises a natural high, which is delivered through rhythm and harmony, an undeniable combination.
You are visitor number: 22187